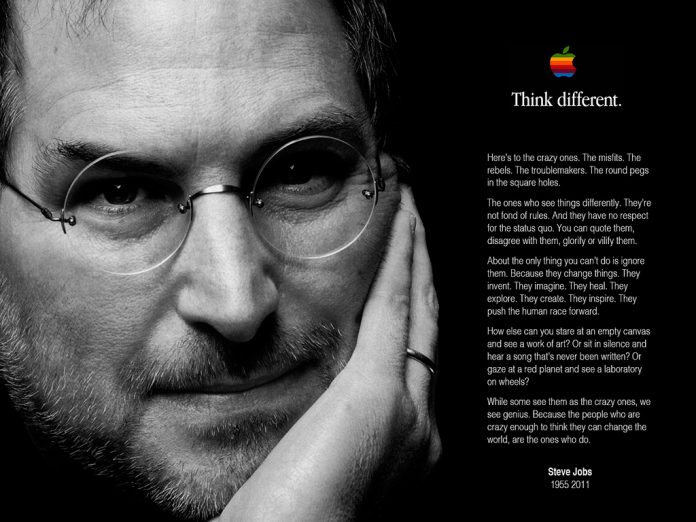 Some of these taglines are relevant to this day and still widely in use, while some others have been replaced with ones more pertinent to the times.
Apple: Think Different
Released in 1997, Apple's 'Think Different' campaign went on to become one of the most famous slogans of the 90s and remains famous even now. The ad celebrated those who were seen as crazy or rebellious and came up with the popular quote "Because the people who are crazy enough to think
they can change the world, are the ones who do."
However, according to an article published by Forbes, there have been rumors that charged Steve Jobs, co-founder and CEO of Apple with plagiarism. Nevertheless, no one can deny the brilliance of the campaign, which back then, was truly revolutionary.
(Apple Taglines continue to amaze even in 2019 – like the brilliant riff on CES.
Mountain Dew: Do the Dew
In a commercial featuring action-hero Jackie Chan, the brand image of Mountain Dew as a drink for adventure-seekers and adrenaline-lovers was highlighted. Mountain Dew ads are known for their action-packed sequence of events and the drink is often associated with stamina and power.
Got Milk?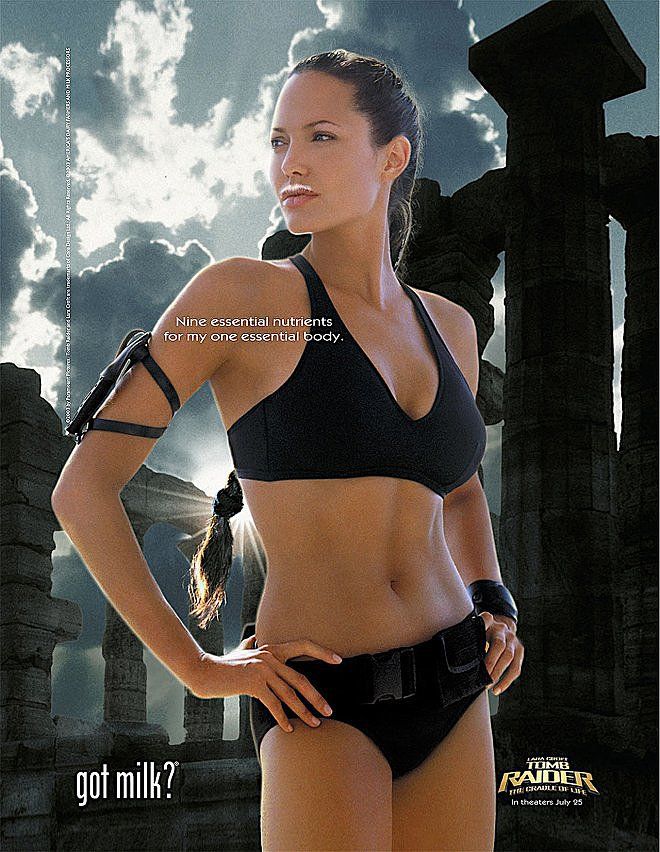 Recently, a remake of Lara Croft: Tomb Raider, a popular series, was released. As with anything, there were mixed opinions since most people felt the new movie didn't have quite the impact as the original. The 'Got Milk?' campaign released for the California Milk Processor Board was famous for featuring celebrities sporting a milk mustache.
Raymond: The Complete Man
The decade of movies like 'Dilwale Dulhania Le Jayenge', 'Agneepath', and 'Darr' the angry young man, playboy image was popular. At that time Raymond's campaign 'The Complete Man' that portrayed responsible men was refreshing. Even now, there is something about the campaign that appeals to the masses.
 Coca-Cola: Thanda Matlab Coca-Cola
Released in 1999, the 'Thanda Matlab Coca-Cola' campaign garnered fame through its ads featuring Dangal actor Aamir Khan. However, Aamir Khan has acted in other Coke commercials before the release of this campaign. For example, this one alongside Aishwarya Rai.
Amul: The Taste of India
From 'Utterly Butterly Delicious' to 'The Taste of India', Amul has given us years worth of lip-smacking moments along with a side of history. Known for their portrayal of politics and global affairs, Amul has seen India through a lot.
Pringles: Once You Pop, You Can't Stop
It would seem most people who eat Pringles would agree with this tagline. As the ad clearly shows, it doesn't seem to matter what age you are, when it's Pringles.
Maybelline: Maybe she's born with it, maybe it's Maybelline
For a long time Maybelline's tagline was 'Maybe she's born with it, maybe it's Maybelline.' While the slogan was certainly iconic, the new one seems more apt for the current age: 'Make it Happen'.
Nike: Just Do It
Although published in 1988, Nike's 'Just Do It' was a must- add to our list. Is the tagline iconic because of the brand or the brand iconic because of the tagline? Who knows? It certainly has withstood the test of time and remains even now relevant.
What's your favorite tagline from the 90s? Let us know in the comments!