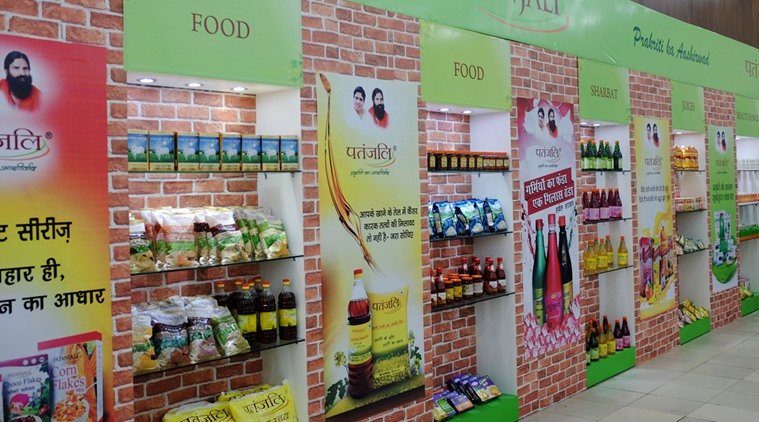 The Indian dream brand has crossed Rs 10,000 crores in revenue.  This puts it ahead of other successful India-headquartered FMCG giants like Dabur and Britannia.  I had written a piece on Patanjali as a successful brand extension earlier The juggernaut continues to roll strongly, overcoming the traditional barriers to entry, which are
The high cost of awareness required for a national brand (read celebrity endorsements and mainstream TV advertising)
Research & Development for Product Innovation
Managing a large distribution network
Quality control.
Patanjali avoided Barrier 1 – the high cost of marketing –  by having Baba Ramdev as a mascot.  He is well known and his credibility has rubbed off on the brand.  But that is just the tip of the iceberg.  Another big differentiator for the brand communication has been the use of "fear".  Unlike the classical FMCG messaging which emphasised the positives "Drink this and grow taller than you would with our competition" the Patanjali method has been to scare "Drink the competition and get cancer".  Primal feelings like anger, fear, disgust are more likely to go viral, and Patanjali has benefited from that too.  Patanjali stirs the pot with a heavy dose of patriotism – "Be Indian, Buy Indian" which has always resonated and rightly so.  (For the purpose of this article we will ignore the fact that Baba Ramdev tweeted against using Chinese products from a made-in-China iPhone. )
Ayurveda + Scary Science + Patriotism is a winner.
Their even bigger brand asset and credibility factor has been the near-universal acceptance amongst their audience of Ayurveda.  Unlike a chemical formulation that needs much proof and testing before a customer puts their faith in it, an Ayurvedic formula gets a free pass as it is believed to be natural and based on ancient Indian science.  By using existing recipes they have been able to shortcut the R&D process, thereby toppling Barrier #2.  However, 25 ads by Patanjali were found to be misleading by the Advertising Standards Council of India, out of 33 complaints.  At least one was due to lack of evidence against claims of efficacy.
Barrier #3, Distribution is often the biggest hurdle to cross for a national FMCG player in India.  Fighting for shelf-space is neither easy nor cheap, winners usually determined either by their advertising clout or size of dealer margins.  Patanjali's own-stores (franchisee-run) were extremely critical to their growth.  The differentiator here is that they are Ayurveda hubs with a range of medicines and FMCG along with a trained, certified doctor.  Again, this leveraged heavily on the popularity and credibility of Baba Ramdev to drive franchisee adoption and footfalls into these stores.  But once a product or category has scaled, it is made available at mainstream stores too. This distribution strategy has helped to keep their sales and distribution costs lower than the competition.
Managing quality control of the product is the final barrier #4 and in my view the one that Patanjali will find the trickiest.  Because in this area, unlike in the others, I could not spot any uniqueness or differentiators.  Neither Yoga nor Ayurveda will help them manufacture at scale with quality so they will need to do the same things as everyone else in terms of building a scaleable, automated, reliable production and supply chain system. Every slip up will be well-publicised.  Cosmetics sell hope so arguments that they did or did not work will always be qualitative.  Not so with food.  Given the swadeshi stance taken by the firm one does hope that manufacturing is being done on Indian designed and manufactured machines.  It's a great brand story if that is the case.
Now we come to the big business question, can it continue its blistering growth?
Ayurveda is key to the brand.  But Ayurveda can be used by others too.  Dabur has certainly also stepped up its efforts in this direction and their work is showing results in segments like toothpaste.  Colgate – the market leader – has also realised the threat and has launched Cibaca VedShakti, while Unilever has a whole Ayurveda range under the Ayush brand name.
About 30 per cent of its revenue comes from toothpaste, honey, clarified butter, soap and gooseberry juice, according to Religare Securities. The other 70 per cent spans noodles and hair oil to sugar and rose sherbet.
The vast range of its product portfolio is well, interesting, and puzzling.   Launch of noodles has shown that the organisation can be opportunistic (Maggi's forced withdrawal from the market) and stray from their core tenets of health, purity and Indian.  Noodles does not tick any of these boxes.  As a retailer, sure, you want to have 100% of the basket-share and in their target audience they may have discovered that a packet of noodles is a regular treat.  But as a brand owner such choices dilute the brand.  I bring this up because they have also announced their foray into clothes and jeans.  If the clothes were aligned with the Indian ethos (even, say, jeans with Indian embroidery or looser fits)  or supporting local industry it would make sense.  It is also not about fighting the MNCs – nearly 60% of the Indian denim market is estimated to be unorganized.
Generally a vast number of SKUs makes business complicated and can confuse the consumer.  Moreover Patanjali still has the opportunity to grow marketshare in existing categories, and invest in South India.  Further extension of the brand into unrelated areas can weaken it.
My unsolicited advice to Patanjali would be to stick with products closer to their brand position, and look at national penetration.
Caveat:
As the company is not listed, the revenues and claims of growth are self-declared