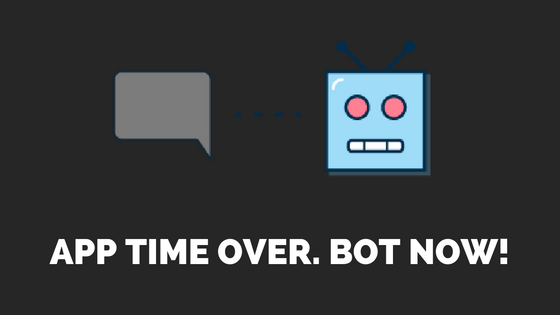 While marketers strive to establish a presence in social media, the number of active users on messaging platforms such as WeChat, Messenger, Slack etc. has surpassed those of social networks.  Are you present in this growing space?
So What are ChatBots?
A ChatBot is a software which automates a task. These bots can stay inside the messaging app accomplishing all tasks through a rule-based sequence of messaging like ordering food, booking tickets, navigating your intranet etc.
The good news for marketers is that the cost of development is much lower than that of apps. The end-UX is also better suited to the small screen, since users don't have to switch across different apps or leave the home chat screen.
A Chatbot can improve the customer experience by responding to customer queries or orders in real-time as per a set of pre-programmed responses, directing only queries it can't answer to a human. It's like IVR for the chat platform, and you can expect the same productivity improvements that came when automated phone helplines were launched.
Niki.ai is a chatbot from India that sits on Facebook's messenger and can perform simple tasks like getting your bills paid. (See screenshot below)
The Tacobot can help you order Tacos:
Just like a real customer service representative, the bot represents your brand and things can go badly wrong if it isn't programmed correctly. Customers don't really distinguish between the Chatbot and human and have the same high expectations of service. Just like UX engineers could design you a better website you'll now need Chatbot designers that can train the bot to reflect your brand values AND meet your sales and service targets.
The good news is that once you have trained your chatbot it can work round the clock making customers happy.
"App Out" and "Bot In"!
This article was written by humans and no bot was harmed in its creation.