Welcome to the Nostalgic Nineties corner! Young Indian Adults are a curious bunch. They grew up during rapid changes, living in an India which was recovering from its conservative economic psyche and an India which was struggling with the opportunities liberalisation brought with it. It seems, the pre-Y2K children enjoyed the best of both worlds in every way. It means that this generation was probably the last generation to enjoy the privilege of buying candies stored in the large glass jars of their corner shops for as low as 50 paise (the currency has died down in India, since). Big Bazaar was yet to make its entry into Indian homes, and Big Basket was a thing of the utopic future. So here are stories of 9 candy brand stories to take you back to your childhood:
Harnik Phantom Sweet Cigarettes: Once upon a time, before the ill effects of cigarette smoking were confirmed, the act in itself was considered as the height of cool. Smoking your first cigarette was a rite of passage. Thus, in "monkey see, monkey do" fashion, you would find children trying to emulate impressive postures as they happily pretend puffed a candy cigarette. A 40-year-old, Pune based brand Harnik General Foods Pvt. Ltd, produced the one thing which made it an inseparable part of a generation's childhood- the Phantom Candy Cigarette. As the nukkad stores started giving way to general markets and superstores, this much-beloved candy went out of sight and gradually out of mind. It is hard to land a cigarette candy pack in one of your nearby stores now, however, Amazon sells a pack of 24 at a time. And don't deny it, despite knowing its harmful effects and the ridiculously large quantity of candy you would eventually end up with, you have either impulsively bought the 24 pack crate from Amazon or have sorely been tempted to.
Poppins: A Parle Product, Poppins with its rainbow colours has been capturing the imagination of children since the 1950s. It remained hugely popular throughout the 90s and the early 2000s. However, the brand went completely under the radar for a couple of years, lurking silently in all general stores, facing stiff competition from fancier candies. Poppins tried to make a comeback with its "doon kya?" advertisement, however, it seems that the new packaging and flavours are not doing the brand any new wonders.
Bonkers: Joyco India Pvt. Ltd, a branch of the Italian giant Joyco, introduced three flagship candies, one of which was Bonkers a chewable candy. Joyco India had entered the domestic confectionery market through a 51:49 joint venture with Dabur, under the name General de Confiteria in January 1995. In mid-June 1999, Joyco bought out Dabur's share in the joint venture and General de Confiteria acquired the status of a 100 percent subsidiary of Joyco Group. In 2001, Joyce India Pvt. Ltd. was a 100 crore company, with a majority of its sales from its flagship candies. However, in 2004, Wrigley acquired Joyco India Pvt. Ltd. including its flagship products and phased them out gradually. Today, the proof of Bonkers' existence is our memory of the product.
Chatmola: Established in the year 1972, Anil Food Industries is a Delhi based confectionary. The most famous of its products is Chatmola, which are digestive candies shaped like maroon balls. It is notable indeed that as a sole proprietorship, the brand has rarely come up with an advertisement, and is still popular with the masses. Despite heavy competition from Hajmola and other Indian brands, Chatmola continues to thrive with a loyal fan base.
Pan Pasand: Found in 1933 as a part of the Walchand Group, the Ravalgaon Sugar Farm Ltd. functions as an independent public limited company which manufactures sugar and confectionaries. Pan Pasand is uniquely Indian in its flavour- sweet pan with a hint of freshness. It is still available in some corner shops or at your cigarette corner, and on Amazon. The candy has a fan following abroad, with millennial desis walking down Indian superstores aisles to buy these recipes for nostalgia. It looks like, pan pasand is now targeting adults instead of children and has thus created a niche corner for itself, with committed fans.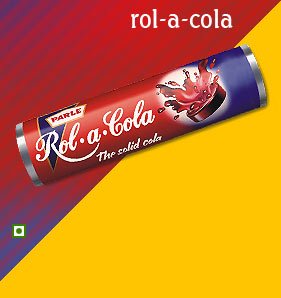 Rol-a-Cola: The solid Cola! Parle introduced this instantly hit product as a revolutionary yet cheap option to aerated cola. The solid cola tasted just like cola, it was the best of both worlds, you got Cola in candy. The bad news, however, is that Parle discontinued this great product and nobody knows when will it come back, if ever. There is, however, a petition on Facebook, seeking to bring Rol-a-Cola back. We can't say for sure if it will ever come back though.
Boomer: If the jingle "Boom-Boom-Boomer" has not already played on your mind, try again. You will remember the boomer man, whose special power was superelasticity. Joyco India Pvt. Ltd.'s flagship product, Boomer contributed to 58% of its market share. However, Boomer went MIA for a while, as Joyco products changed hands. Wrigley's tried to re-establish Boomer to its previous popularity, but by the time the Boomer man came back, the market was already flooded with more lucrative bubblegums.
Magic Pops: Pop Rock was introduced by General Foods in 1975 and withdrawn from the market by 1983 because of its low popularity and precarious shelf life. Kraft Foods licensed the Pop Rocks brand to Zeta Espacial S.A. who continued manufacturing the product under Kraft's license. Eventually, Zeta Espacial S.A. became the brand's owner and sole manufacturer. Pop Rocks is distributed in the U.S. by Pop Rocks Inc. (Atlanta, Georgia) and by Zeta Espacial S.A. (Barcelona, Spain) in the rest of the world. Despite this long history, it is rather unclear on who manufactures Magic Pop in India. A Meerut based brand called P.G. Engineers claims to be Magic Pop's manufacturer in India. What is noticeable is that Magic Pop had gained some popularity in the 90s before its decline, the candy, wasn't completely wiped out of the market but held on to a niche corner for itself.
Fatafat: Pamul Industries is a Hyderabad based ayurvedic industry. They came up with Fatafat, ayurvedic, digestive pills. The name Fatafat means quickly, the candy is known for remedying digestive issues quickly. The pills are black and have a tangy-sweet taste. The brand faded with the decline of our local stores, it is however available as part of bulk orders on India Mart and Amazon among others.
Editorial Note: This Article is a part of a series where we are looking at the past and present of popular Indian brands. You can read the first article of the series here: 8 Indian Beverage Brand Stories You Should Know About