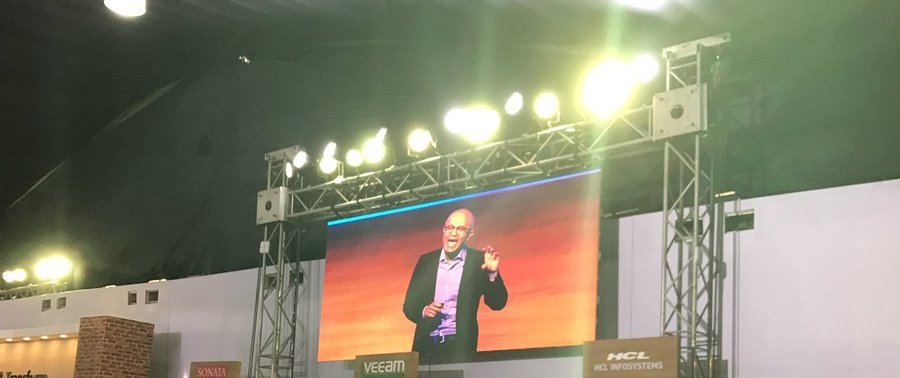 Paul Writer hosted a CMO Roundtable and CMO Track at Microsoft's flagship Future Decoded event.  The theme for the CMO Track was the Connected Customer as the modern customer is connected to other customers, prospects, the brand and business.  The Connected Customer gets information in real-time, gets feedback from other users and expects to converse with the brand. Modern Marketers on the other hand can target  messaging and products precisely, understand customers as individuals and use the power of machine learning, analytics and automation to churn vast amounts of data to deliver accurate responses that delight customers.
During the event Satya Nadella announced new initiatives that are relevant to marketers:
Skype Lite: Enables communication and collaboration over low-bandwidth networks and will bring Aadhaar integration to the app by June 2017.  This helps to keep both teams and extended eco-systems connected and will make authentication much easier for online transactions.  Skype is integrated with Office 365, and he announced that SBI has chosen this for employee collaboration.
LinkedIn: There's been much curiosity about what Microsoft will do with this.  Satya spoke of a blended learning platform that brings together Microsoft's cloud technologies and LinkedIn's job search capabilities. Referred to as Project Sangam it can create a life-long skilling platform for Indian workers.  If you're in the education, training or placement industry keep a close watch on this space as this could disrupt the work experience process.
In the CMO track we discussed what do marketers need to do thrive and lead in a post-communication, technology-enabled world of marketing?
Building the digital market-first organization
Kushe Bahl of McKinsey walked us through the steps required to make a successful digital transformation campaign.  He emphasised the importance of base-lining and goal-setting even at the pilot stage.
Selling to the Long Tail
With the availability of street-level data and micro-marketing it is possible to target pockets of segments.  The pockets can be geographic, psychographic or demographic.  Members of the same demographic or psychographic may also be separated geographically.  What changes in marketing have been caused by this?  How do you balance your online and offline strategy?
In this session Mihir Kulkarni of Pepperfry walked us through their segmentation process and the many parameters required to truly understand the customer as an individual.  You have to grapple with the difference between a customer who buys a design-led lamp and one who chooses a value-led bed.
Fireside Chat: Loyalty is Dead. How do you increase the Lifetime Value of the Customer?
Near-perfect product information, ease-of-returns, rapid increase in choices, rising incomes – these factors are fuelling a consumer that does not blindly support trusted brands.  Yet cost of customer acquisition requires that marketers generate a certain value from customers.  The fire-side chat with Karthi Marshan of Kotak Mahindra Bank and Manojj Kumar of Spencer's ecommerce brought the importance of digital storytelling and genuine, repeatable omni-channel customer value as a means to create loyalty beyond price-baiting.