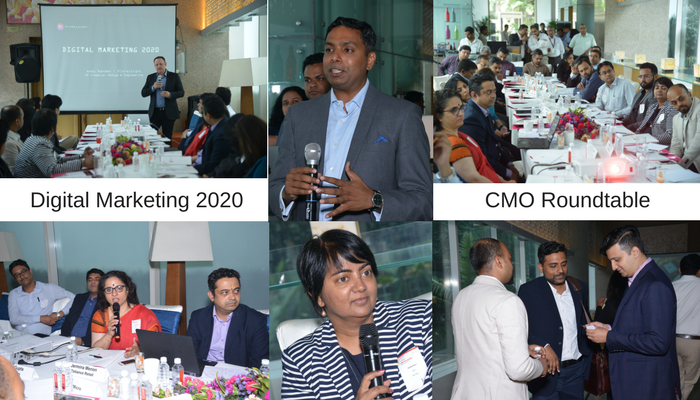 There is no denying that digital marketing is changing the marketing landscape today and paving way for the future of marketing. Digital Marketing 2020 was the theme of the CMO Roundtable recently co-hosted by Paul Writer and Pluralsight in namma Bengaluru and the engaging discussion challenged the status quo and focused on decoding industry best practices in the sphere of digital marketing for the change makers.
The CMO Roundtable at the Ritz Carlton, Bangalore, brought together a select group of senior marketer and digital heads to discuss practices, tools, strategies/ tactics that will be relevant for digital marketing in 2020.The roundtable opened with Jessie Paul, CEO, Paul Writer, setting the context for the discussion. Each attendee then shared one specific challenge, constantly faced during the organization's digital marketing efforts.

Picture: Jessie Paul moderating the CMO Roundtable, Bangalore
Sharing her view on the future of digital marketing, Jessie Paul, CEO, Paul Writer, said, "In a country where literacy and a multiplicity of languages is a barrier to universal text content, video is very popular. There are Youtube heroes and channels such as BeingIndian which have millions of views for their videos. And Indians spend 50 million minutes a day on WhatsApp video calls. Clearly videos should be a part of your digital marketing portfolio in India."
Andy Rahden, VP Creative, Design & Engineering, Pluralsight, shared his perspective on the future of digital. He went on to describe how digital marketing is shaping the 21st century marketing agenda and the changing world of digital.

Picture: Andy Rahden, VP Creative, Design & Engineering, Pluralsight
Rahden pointed, "75% of marketers say their lack of skill is impacting revenue in some way". He also shared insights on how the marketing spends in the future is going to look like. He said, "Marketing software spend is projected to reach $32B+ by 2018."
The roundtable had attendees from Redbus.in, Reliance Retail, Tech Mahindra, Kurlon Enterprises, Happiest Minds Technologies, Wipro and Adobe with senior titles including Director – Digital Marketing, Marketing Director, Vertical Digital Officer, Head – Marketing, Global Head Brand, Digital & Engagement Marketing, Chief Digital Officer, Sr VP – Head of Continental Europe to name a few.
The hour long discussion had interesting insights on how digital marketing will look like in 2020 including practitioner's perspective shared by Sunder Madakshira, Head Marketing, Adobe India.The Roundtable addressed topics like the key trends in digital, challenges that one is grappling with and how can digital heads equip themselves to lead this transformation.

Picture: Sunder Madakshira sharing the practitioner perspective

Picture: A candid shot of the CMO Roundtable
The next episode of the CMO Roundtable will be taking place in Mumbai at the Four Seasons Hotel on the 9th of Aug, 2017.