Social Proof is a powerful marketing technique that can build trust, improve your reputation and boost sales. We adapt our behaviour based on what others are doing. We also use the opinions and actions of others to shape ours.
Just in: Get More Out Of Content Marketing Investments for India powered by Paul Writer. The white paper is sponsored by censhare. In a country as...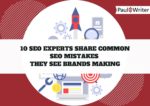 Kris Nicolaou Brain Box Labs Hiring a reputable SEO company to better your visibility in search engines is excellent, but they cannot increase your rankings alone....