2018 has been often called the year of Artificial Intelligence (AI). AI will be pervasive in every product, system, and solution. The marketing function...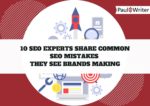 Kris Nicolaou Brain Box Labs Hiring a reputable SEO company to better your visibility in search engines is excellent, but they cannot increase your rankings alone....
Survey to understand what makes a PR Agency special? We are collecting information from both the agencies and clients to create a report on the PR Landscape of India. The report will provide a listing of the top agencies across domains based on their self-reporting and what clients say.