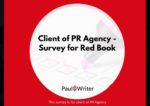 Do take this survey, share your inputs and we will aggregate the answers and come out with an updated edition of the Red Book...
2018 has been often called the year of Artificial Intelligence (AI). AI will be pervasive in every product, system, and solution. The marketing function...
Social Proof is a powerful marketing technique that can build trust, improve your reputation and boost sales. We adapt our behaviour based on what others are doing. We also use the opinions and actions of others to shape ours.